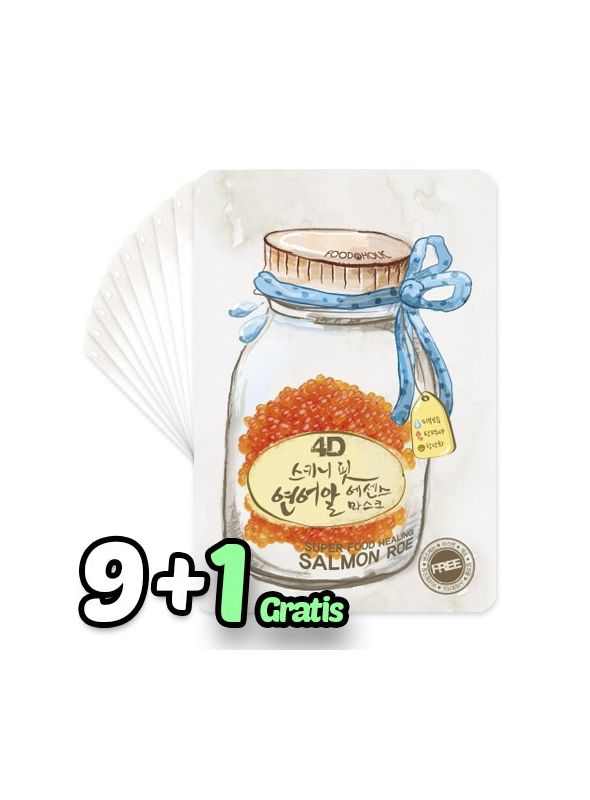 Product added to your favorites list
Add this product to my list of favorites.
4D Skinny Fit Salmon Roe Essence Mask Pack

· Facial Sheet Mask Pack
· Salmon egg extract
· Hydrates, Regenerates & Exfoliates
· Sale Pack: 9 + 1 Free
Order it before 13:00 and receive it on miércoles*
You collect 26 Queen Points +info
Foodaholic 4D Skinny Fit Salmon Roe Essence Mask this mask, formulated with salmon egg extract, has high-antioxidant and high-moisture effect. It provides a moisturized and radiant skin texture supplying plentiful nutrients from the salmon egg into the skin. Salmon Roe is 10 of the world food that helps cultivate new cells. Product contains antioxidant nutrients, such as omega 3 and vitamins that helps feeding necessary nutrition to your skin. Salmon egg extracts can moisturize the skin and provide sufficient moisture and nutrients to the skin and smoothness.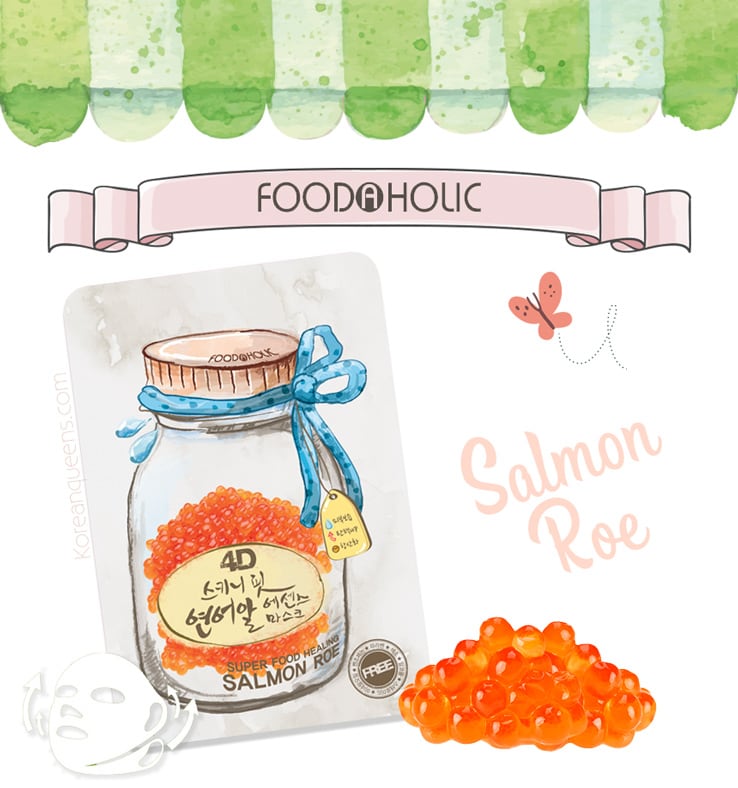 A natural enzyme from the Salmon eggs provides exfoliating properties as an acid treatment but is gentler to the skin, it is a treatment designed to deliver the benefits of a chemical peel without the redness or irritation that can be sometimes caused by a peel. The salmon egg enzymes treatment works to attack only dead skin cells, helping to lift surface debris, unclogging and purifying the skin of build-up. For all skin type, It's safe formula is Paraben free, Formaldehyde-Free, pigment free, Steroid free, Alcohol free and Benzophenone free.
4D shape means a mask that not only cover your face but our neck, it contains two ear handles which can be handed onto your ear for a closer touch to your face during the facial process. You no longer have to lie down and worry how the mask will fall off during the mask process and feel free to walk around. 4-dimension sheet with ear hanger provides lifting effect to increase the adhesion and excellent moisture absorption into the skin.
- How to Use: Match the sheet from the eye and fix it all over the face with a fingertip. Remove the mask after 20~30 minutes and use the finger to absorb the remaining fluids lightly and arrange the skin according to the basic care oder.

- TIPS:
* Use as cold in summer: Before use, keep it in the refrigerator and enjoy a refreshing effect.
* Use as warm in winter: Before use, soak it with the package closed about 2-3 minutes in 50-60ºC of water.
INGREDIENTE: Water, Glycerin, Butylene, Glycol, Carbomer, Trethanolamine, Allanton, Sodium Hyaluronate, Hydrolyzed Collagen, Bifida Ferment Lysate, Salmon Egg Extract (33mg), Brassica Oleracea ltalica Extract, Potassium Oilvate, Lavender Extract, Blueberry Fruit Extract, Jasmine Extract, Matricaria Extract, Orange Fruit Extract, Pumpkin Fruit Extract, Disodium EDTA, Phenoxyethanol, Honey, Dipotassium Glycyrrhizate, Panthenol, Fragrance.
Find more products in the same category: