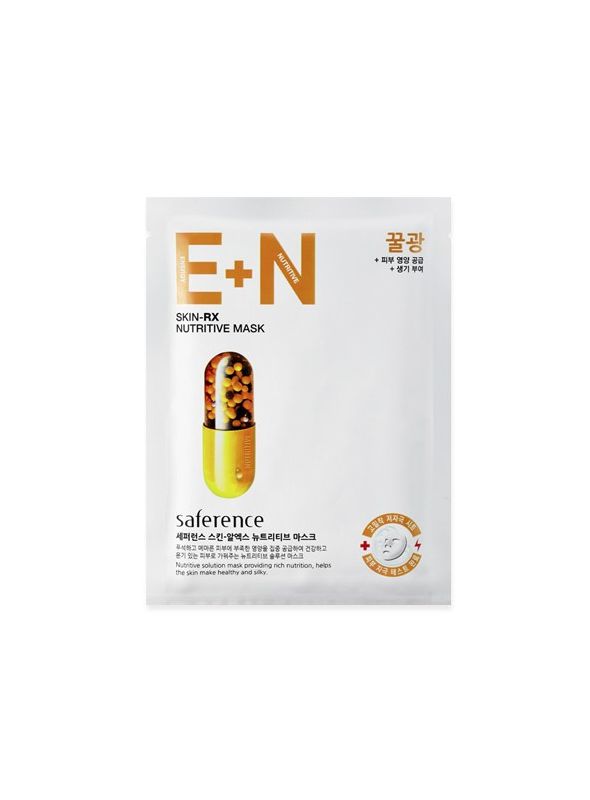 Product added to your favorites list
Add this product to my list of favorites.
Saference Skin-RX Nutritive Mask

· E (Energy) + N (Nutritive)
· Nutritive Mask
· Olive Oil, Honey, Propolis & Plant extracts
· Size: 25g
Order it before 13:00 and receive it on jueves*
You collect 2 Queen Points +info
Ladykin Saference Skin-RX Nutritive Mask contains Olive Oil, Honey & Propolis Extract, and various plant extracts that will provide rich nutrition to your skin, promoting a healthy and silky complexion! It's a nutritive solution mask which makes healthy and silky skin by supplying nutrients to dull and dry skin. Calendula flower give silkiness and soothing effect. Honey and propolis made by bees soothe troubled skin and protect the moisture layer on the skin, give nutrition and silkiness to the skin. Propolis and Calendula form the perfect combo for take care about sensitive skin, these ingredients provide skin protection, shoothe troubles and calm irritations. This mask brings you a moist, nourishing & glowing skin. It make a water coating over the skin for strong moisturizing. No 5 ingredients added: Parabens, synthetic dyes, benzophenone, mineral oil or animal derived ingredients.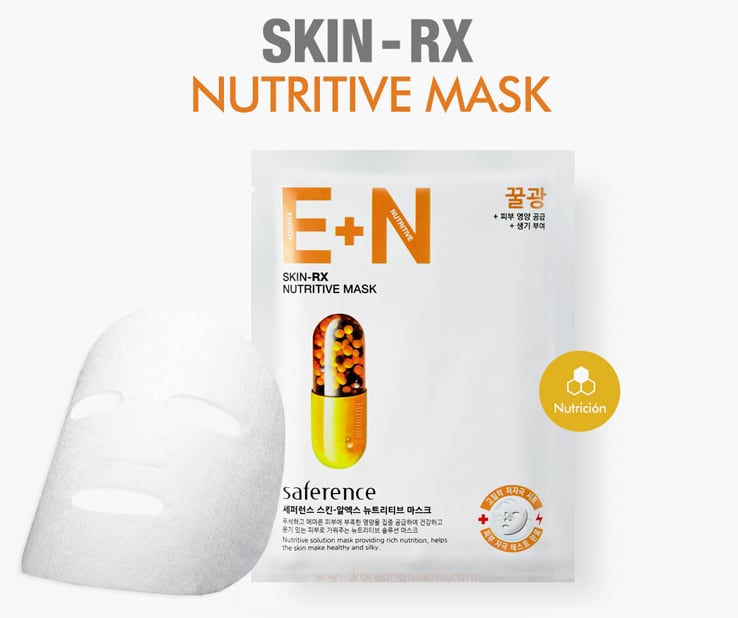 Eco-Friendly Material Skin Sheet: Tencel is ecofriendly and perfect natural material made from eucalyptus tree pulps. This mask sheet use a natural cellulose tencel sheet softer than cotton sheet with soft texture gives glowing skin without irritation.

SAFERENCE = SAFE + SCIENCE
Saference = safe + science, the compound word to "protect your skin with science". It is a cosmetic brand made from more expensive and trustworthy source compared to general cosmetics. Saference thinks about skin trouble and causes while suggesting effective skin solution to keep your skin beautiful. Skin health solution that goes beyond beauty, with Saference skin experts' expertise, we realize consumer satisfaction.
Completed low irritation dermatologist test: Low irritation clinical skin tests are complete and it is absorbed quickly while finishing moist. Approved skin irritation level as 0 in real skin irritaion test. It's safe mask which can be used for all skin types.

- How to use: After face wash, remove water and calm the skin with a toner. Open the pouch and put on the mask sheet for 15-20 minutes. Remove the sheet and gently tap essence for absorption.

Find more products in the same category: