Product added to your favorites list
Add this product to my list of favorites.
Organic Seeds & Rice Fermented Hydrogel Sheet Mask

· Hydrogel Sheet mask
· Pure Natural Ingredients
· Natural Fermented. Waterless
· Size: 33g
Order it before 13:00 and receive it on miércoles*
You collect 3 Queen Points +info

Whamisa Organic Seeds & Rice Fermented Hydrogel Sheet Mask is made of pure natural origins ingredients and 95% of them are organic ingredients. This mask is soaked in skin-plumping botanical serum to drench your face in ultra hydration and nutrition for instantly glowing, clear skin. It gives deep moisturizing and rich nutrition with anti-wrinkles effect that makes your skin clean and energetic.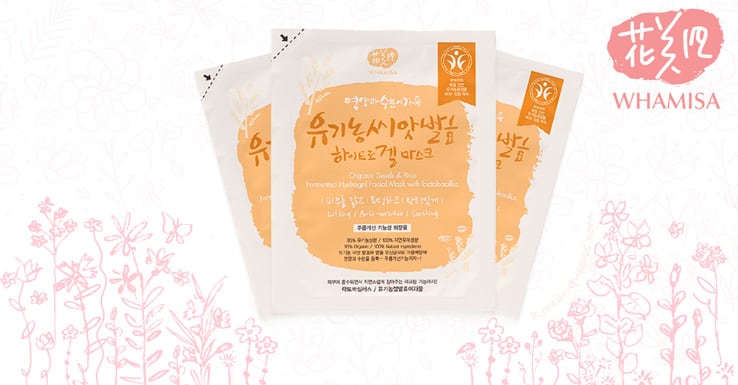 Their ingredients including Rice & Black Soybean which are naturally fermented to preserve maximum efficacy, naturally lift, tighten and hold up facial outline, making your face looking younger and healthy. This one of a kind sheet mask relies on a blend of fermented seeds and rice to help re-hydrate and calm dry, depleted skin. It works hard and fast to improve skin's elasticity and firmness. This gel-type mask reacts to skin temperature in order to deliver the benefits of the natural ingredients most directly to your skin.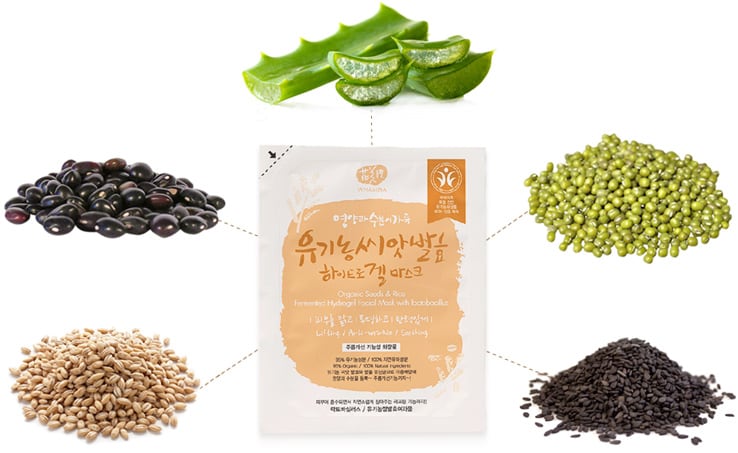 WHAT ARE FERMENTED INGREDIENTS? AND WHY THEY ARE SO BENEFICIAL FOR YOUR SKIN?
During the fermentation process, ingredients are slowly processed over a period of several weeks in a controlled, oxygen-free environment. This not only preserves the ingredients, but allows for harmful bacteria to be removed, and the ingredients break down into smaller, nutrient-dense constituents, which also allows desirable by-products such as amino acids and peptides to emerge. This means that essential nutrients, minerals and actives can be more easily absorbed deep into the skin and used to hydrate, nourish and repair, producing optimum results. The end result is a preserved, concentrated, more nourishing version of the original ingredient.

There's also scientific evidences that some lactobacillus ferments help treat and prevent acne and rosacea due to a combination of the protective, the anti-inflammatory and the antibacterial effect produced by lactobacillus.

- How to use: After facial cleansing, tone your skin. Uunfold the mask and apply the liquid serum in the mask packaging. Remove the top and bottom sheets. Then attach on face beginning from center and toward the cheeks, bottom half first. Press lightly with your fingertips to set it in place. Leave it on for 20-30 minutes, then peel off. Gently pat any remaining essence using hands for absorption.
- INGREDIENTS:
SHEET: Water, *Hordeum Vulgare Seed Extract, *Aloe Barbadensis Leaf Extract, Ceratonia Siliqua Gum, *Lactobacillus/Rice Ferment Filtrate, *Lactobacillus/Avena Sativa (Oat) Kernel Ferment Filtrate, *Lactobacillus/Phaseolus Angularis Seed Ferment Filtrate, *Lactobacillus/Glycine Soja (Soybean) Ferment Filtrate, Xanthan Gum, **Scutellaria Baicalensis Root Extract, **Paeonia Suffruticosa Root Extract, **Glycyrrhiza Glabra (licorice) Root Extract
ESSENCE: *Aloe Barbadensis Leaf Extract, *Lactobacillus/Hordeum Vulgare Seed Ferment Filtrate, *Lactobacillus/Rice Ferment Filtrate, *Lactobacillus/Avena Sativa (Oat) Kernel Ferment Filtrate, *Lactobacillus/Phaseolus Angularis Seed Ferment Filtrate, *Lactobacillus/Glycine Soja (Soybean) Ferment Filtrate, *Lactobacillus/Sesamum Indicum (Sesame) Seed Ferment Filtrate, *Corylus Avellana (Hazel) Seed Oil, **Scutellaria Baicalensis Root Extract, **Paeonia Suffruticosa Root Extract, **Glycyrrhiza Glabra (licorice) Root Extract, Xanthan Gum, Lavandula Angustifolia (Lavender) Oil, Aniba Rosaeodora (Rosewood) Wood Oil, Citrus Nobilis (Mandarin Orange) Peel Oil, Rosmarinus Officinalis (Rosemary) Leaf Oil, ☆Adenosine
(*Certified Organically Grown, **Natural Preservative, ☆Ecocert)

Find more products in the same category: