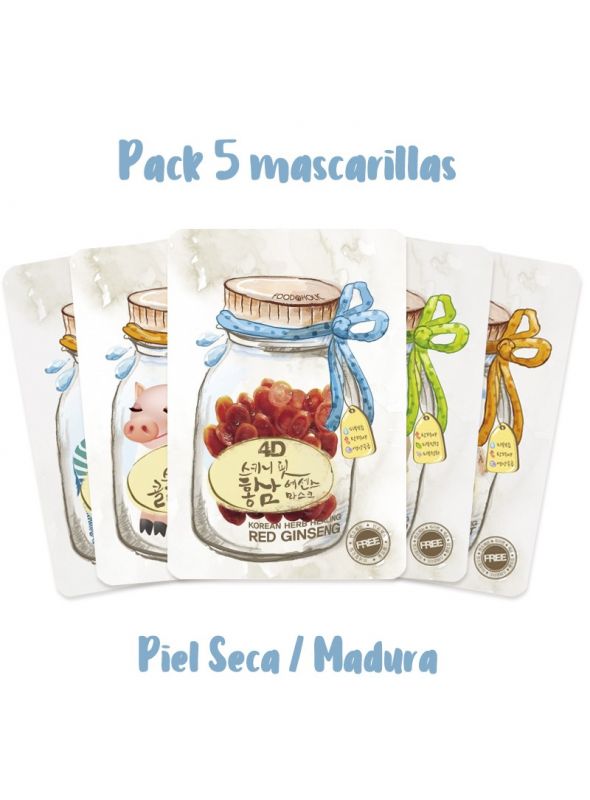 Product added to your favorites list
Add this product to my list of favorites.
4D Skinny Fit 5 Mask Pack - Dry or Mature Skin

· Facial 4D Sheet Mask Pack
· Normal, Dry or Mature skin
· 5 units * 33 ml
Order it now and receive it on martes*
You collect 14 Queen Points +info
FOODAHOLIC 4D Skinny Fit Essence Mask - Selection for Normal, Dry or Mature skin types
We have selected the best cotton sheet masks 4D thinking of the needs of normal, dry and mature skin. A selection of 5 different masks that will pay attention to all the problems and needs of normal, dry, super dry, mature and aging skin. The best selection to care, restore and maintain your skin youthful. Combine them how, when and where you want. We recommend to apply one or twice a week, you will see the changes in your skin!
All these mask have a safe formula: Paraben free, Formaldehyde-Free, pigment free, Steroid free, Alcohol free and Benzophenone free.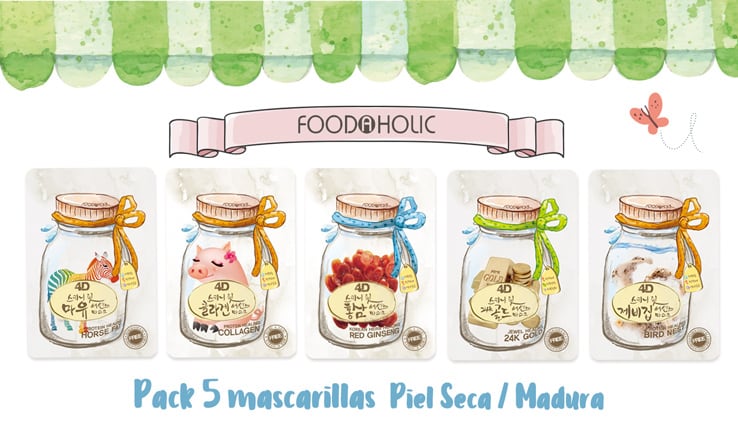 - 4D Skinny Fit Red Ginseng Essence Mask with red ginseng extract recovers damaged skin and helps to maintain the skin healthy and glow. Red ginseng to help restore skin strength after being damaged by stress, pollution, debris and weather. If you have experienced harsh weather or environment or would like to relax after a long day of work, this mask will be sure to cure you from your troubles. Also helps maintain firmness and smoothness. Red Ginseng Mask enhances a youthful complexion by revitalizing exhausted and lifeless skin. This key ingredient is used in a lot of anti-aging skin products because it contains many substances and vitamins that help in the skin's elasticity, vitality, and cell regeneration. Also helps in detoxifying the skin, and getting rid of free radicals that accumulate through out the day.
- 4D Skinny Fit Collagen Essence Mask with collagen supplies moisture to the rough skin or parts exposed to the ultraviolet rays and thus making the skin tight. Restore dry skin to a smooth and supple skin. Stimulating collagen synthesis in aged skin will reduce wrinkles and improve skin texture. Collagen has a plumping effect on skin giving it a firm and youthful look. The vitalizing and firming function of collagen is applied to activate and renew the skin. In addition provides skin with intensive and long-lasting moisturization to refine skin texture.
- 4D Skinny 24 Gold Essence Mask with genuine Gold Extract transforms dry, rough and dull skin to revitalized, firm and elastic skin with its high anti-oxidant and anti-toxic effect. This mask improves the appearance of fine lines and wrinkles for a youthful-looking complexion. Enriched with Hydrolyzed Collagen, Hyaluronic Acid and Galactomyces Ferment Filtrate helps tighten and firm the look of skin, re-energizes and helps reduce the aging effects of stress. The 24K gold imparts an opulent, radiant glow and locks in moisture for ultra-hydrated skin. Anti-wrinkle functional cosmetic approved by KFDA.
- 4D Skinny Bird Nest Essence Mask with bird's nest which is made out of a dried saliva produced by the males swifts/swallows. This saliva is rich in antioxidants, aminoacids, glycoprotein, calcium, potassium, phosphorus, magnesium and iron. Promotes healthy skin growth and stimulates skin's natural healing process. It increases the skin's resistance against external factors, retardes the process of ageing through the antioxidant content in the bird's nest. It also stimulates cell regeneration and promotes blood circulation. These are some of the well-known benefits of bird's nest that most Korean people know. This mask will provide you a radiant and fairer skin.
- 4D Skinny Fit Horse Fat Essence Mask with extracting oil from high quality horse, is high-moisture and high-elastic pack with helps to prevent skin dryness and provide the moisture and firming effect with its powerful skin barrier function. Say goodbye to aging skin, this mask features premium horse oil extract which is exceptional ingredient for keeping the skin's elasticity intact. It promotes softer skin and also prevents sagging. It delivers a healthy amount of moisture that lasts long while also supplying abundant nourishment to the pores. This leads to radiant skin and healthy moist texture.
4D shape means a mask that not only cover your face but our neck, it contains two ear handles which can be handed onto your ear for a closer touch to your face during the facial process. You no longer have to lie down and worry how the mask will fall off during the mask process and feel free to walk around. 4-dimension sheet with ear hanger provides lifting effect to increase the adhesion and excellent moisture absorption into the skin.
- How to Use: Match the sheet from the eye and fix it all over the face with a fingertip. Remove the mask after 20~30 minutes and use the finger to absorb the remaining fluids lightly and arrange the skin according to the basic care oder.

- TIPS:
* Use as cold in summer: Before use, keep it in the refrigerator and enjoy a refreshing effect.
* Use as warm in winter: Before use, soak it with the package closed about 2-3 minutes in 50-60ºC of water.
Find more products in the same category: