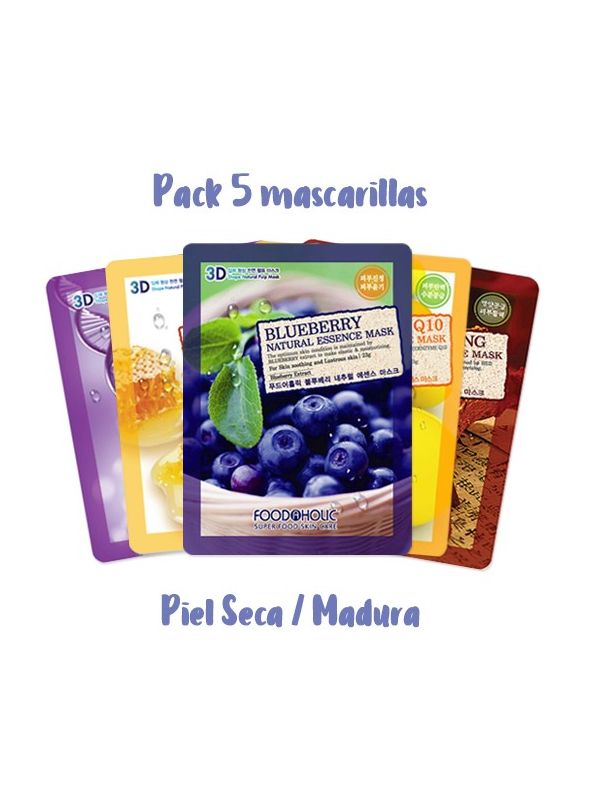 Product added to your favorites list
Add this product to my list of favorites.
Natural Essence 5 Mask Pack - Dry or Mature Skin

· Facial Sheet Mask Pack
· Normal, Dry or mature skin
· 5 units * 33 ml
Order it before 13:00 and receive it on viernes*
You collect 9 Queen Points +info
FOODAHOLIC Natural Essence Mask - Selection for Normal, Dry or mature skin types
We have selected the best cotton sheet masks thinking of the needs of normal, dry and mature skin. A selection of 5 different masks that will pay attention to all the problems and needs of normal, dry, super dry, mature and aging skin. The best selection to care, restore and maintain your skin youthful. Combine them how, when and where you want. We recommend to apply one or twice a week, you will see the changes in your skin!

- Collagen Natural Essence Mask: The concentrated collagen in this mask supplies moisture to the rough skin or parts exposed to the ultraviolet rays and thus making the skin tight. Restore dry skin to a smooth and supple skin. Stimulating collagen synthesis in aged skin will reduce wrinkles and improve skin texture. The most effective option to prevent aging!
- Red Ginseng Natural Essence Mask: With red ginseng extract that recovers damaged skin and helps to maintain the skin healthy and glow. Red ginseng to help restore skin strength after being damaged by stress, pollution, debris and weather. If you have experienced harsh weather or environment or would like to relax after a long day of work, this mask will be sure to cure you from your troubles. Also helps maintain firmness and smoothness. A must have in your skin care rutine!
- Royal Jelly Natural Essence Mask: Is a nutritious mask which contains royal jelly extractions rich of diverse nutritions which helps to keep your skin well-moisturized and healthy. This element creates a moisture film, maintaining the skin wet and tight. Honey extracts smoothes dry, rough, wrinkled skin, and also makes skin supple and plumps up wrinkles. Royal jelly has healing properties for the skin and has been found to have strong antibacterial properties to help improve overall skin condition. Hydrate from the inside!
- Blueberry Natural Essence Mask: The optimum skin condition is maintained by blueberry extract to make elastic & moisturizinng. Blueberry Natural Essence Mask helps maintaining elastic skin and keeps it lustrous and moist, providing energy deep into the skin by containing blueberry extract that's full of anthocyanin. The optimum skin condition is maintained by natural ingredient extract to create elasticity for your skin & moisturize at the same time.
- Coenzyme Q10 Natural Essence Mask: This mask gives nutrition, moisturises and repair the skin. Contains a lot of ingredients rich in vitamins, proteins and amino acids which repair and nourish your skin and enhance its elasticity. With Coenzyme Q10 is an astringent and antioxidant that sheet mask that helps fight free radicals and elasticity loss for firmer-looking skin. Its unique formula also includes ingredients that helps protect the skin and reduces redness, maintaining a youthful appearance, maintain skin's natural moisture and create a protective barrier. The result: a softer, smoother-looking complexion.
- How to Use: Match the sheet from the eye and fix it all over the face with a fingertip. Remove the mask after 20~30 minutes and use the finger to absorb the remaining fluids lightly and arrange the skin according to the basic care oder.

- TIPS:
* Use as cold in summer: Before use, keep it in the refrigerator and enjoy a refreshing effect.
* Use as warm in winter: Before use, soak it with the package closed about 2-3 minutes in 50-60ºC of water.
Find more products in the same category: