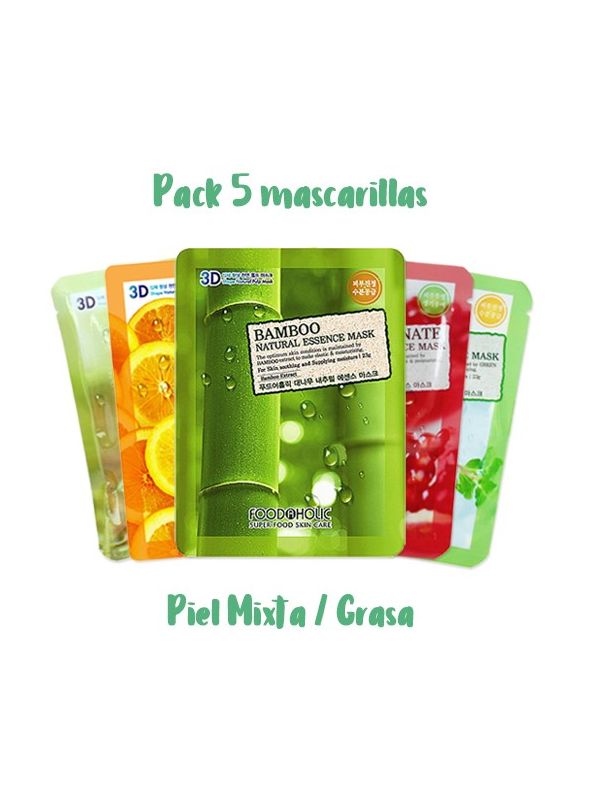 Product added to your favorites list
Add this product to my list of favorites.
Natural Essence 5 Mask Pack - Combinated or Oily Skin

· Facial Sheet Mask Pack
· Combination, Oily or troubled skin
· 5 units * 33 ml
Order it before 13:00 and receive it on viernes*
You collect 9 Queen Points +info
FOODAHOLIC Natural Essence Mask - Selection for Combination, Oily or Troubled skin types
We have selected the best cotton sheet masks thinking of the needs of combination, oily and troubled skin. A selection of 5 different masks that will pay attention to all the problems and needs of combination, oily or acne prone skin. The best selection to care and balance your skin. Combine them how, when and where you want. We recommend to apply one or twice a week, you will see the changes in your skin!

- Snail Natural Essence Mask: Is a nutritious mask which contains Snail Secretion Filtrate effective for skin to nourish and elasticity, filled skin with rich moisture and makes the skin tight and shiny. It gives your skin a fresh cool feeling and is rich with moisture and nourishment for healthier skin. This mask will tighten your skin and provide long lasting moisture with moisture retaining properties. An endless benefits for your skin in this mask!
- Orange Natural Essence Mask: Contains orange extract that has a plentiful Vitamin C. It maintains the skin glow and healthy as well as improves skin elasticity through skin pore contracting effects. The Vitamin C, will soften dead skin cells, brighten dull skin, lighten scars and dark spots and even skin tone, giving excellent clarifying results. Get a clear glowing skin!
- Bamboo Natural Essence Mask: Reinforces the skin's moisture balance. Bamboo is one of the highest sources of natural Silica, which is a main component in improving elasticity. It promotes a more radiant and youthful look while helping to repair wrinkle damage. The hydrating and purifying properties of bamboo make it perfect for fighting the first signs of aging. Bamboo's flavonoid preventing aging and gives soothing and brightening effect, also reinforces the skin's moisture balance. Never forget to moisturize!
- Green Tea Natural Essence Mask: Contains the extract of green tea which soothes the skin and gives the moisture and refreshment to the skin to prevent the roughness and keep the moist skin. Comforts stressed and fatigued skin. The best remedy to prevent pimples and take care for acne prone skin.
- Pomegranate Natural Essence Mask: Makes your skin healthy through removing dead skin cells and maintains your skin smooth through improving skin elasticity. Contains pomegranate additives that nourish the skin for a healthy clean complexion. Its anti-oxidants will restore skin's elasticity while moisturizing properties penetrate deep and help retention. Have a excellent exfoliating effect.
- How to Use: Match the sheet from the eye and fix it all over the face with a fingertip. Remove the mask after 20~30 minutes and use the finger to absorb the remaining fluids lightly and arrange the skin according to the basic care oder.

- TIPS:
* Use as cold in summer: Before use, keep it in the refrigerator and enjoy a refreshing effect.
* Use as warm in winter: Before use, soak it with the package closed about 2-3 minutes in 50-60ºC of water.
Find more products in the same category: