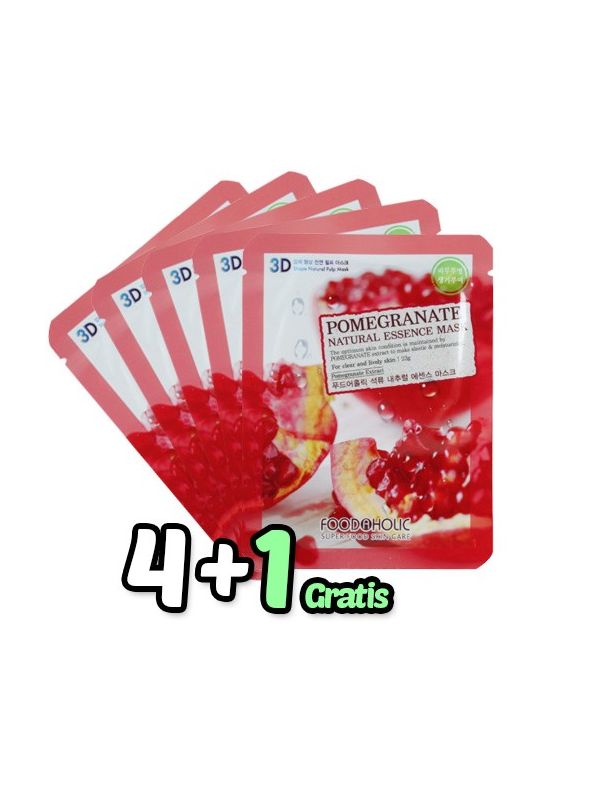 Product added to your favorites list
Add this product to my list of favorites.
Pomegranate Essence Mask Pack

· Facial Sheet Mask Pack
· Pomegranate extracts
· For Clear & Lively Skin
· Sale Pack: 4 + 1 Free
Order it before 13:00 and receive it on jueves*
You collect 7 Queen Points +info
FOODAHOLIC Pomegranate Natural Essence Mask makes your skin healthy through removing dead skin cells and maintains your skin smooth through improving skin elasticity. Contains pomegranate additives that nourish the skin for a healthy clean complexion. Anti-oxidants will restore skin's elasticity while moisturizing properties penetrate deep and help retention. Have a excellent exfoliating effect.
All Foodaholic Natural Essence Masks keeps the moist hydrationg sense based on silky touch and excellent contact of 3D shape natural pulp mask.

- Benefits: Removes dead skin, Smoothes, Improve elasticity, Exfoliates, Nourishes, Moisturizes, Ant-Oxidant
- How to Use: Match the sheet from the eye and fix it all over the face with a fingertip. Remove the mask after 20~30 minutes and use the finger to absorb the remaining fluids lightly and arrange the skin according to the basic care oder.

- TIPS:
* Use as cold in summer: Before use, keep it in the refrigerator and enjoy a refreshing effect.
* Use as warm in winter: Before use, soak it with the package closed about 2-3 minutes in 50-60ºC of water.
Find more products in the same category: