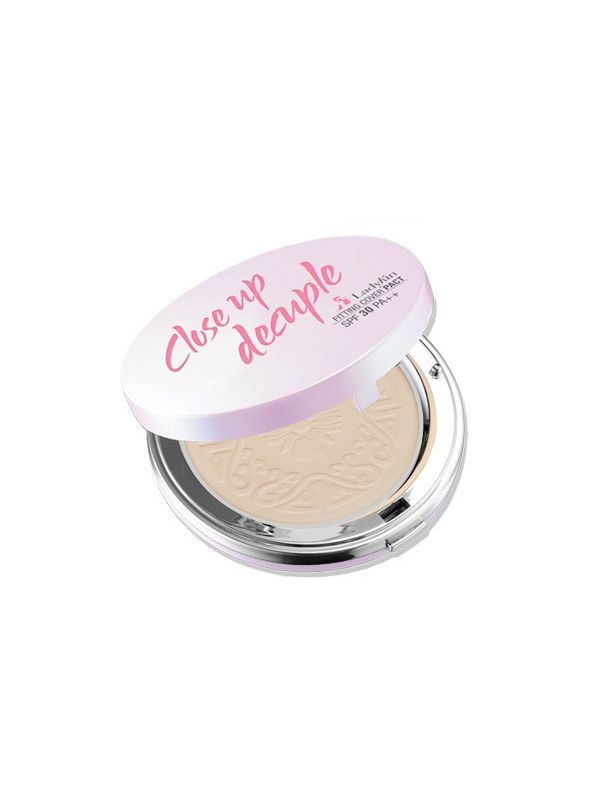 Display all pictures
Product added to your favorites list
Add this product to my list of favorites.
Closeup Decuple Fitting Cover Pact

· Powder pact
· Covers blemishes & Control sebum
· All Skin types
· Size: 12g
Order it before 13:00 and receive it on jueves*
You collect 19 Queen Points +info
LadyKin Closeup Decuple Fitting Cover Pact provides a natural covering with strengthening moisturizing and resilience. Offers excellent adherence and a light and silky feeling, which creates lustrous and transparent skin. It effectively protects your skin from UV with a superior double block system of UVA (PA++) and UVB (SPF30). It protects the skin safely from daily life to the strong ultraviolet light in summer.
Maintains radiant complexion. Its ultrafine powder naturally covers skin blemishes, control sebum by adhering to the skin gently and smoothly and keeps the skin to be downy without agglomeration.
This Crystal-clear Pact helps to provide clear and transparent skin by giving moisturizing and resilience to the skin containing derivates of Vitamin E. Helps to create a lustrous skin from the inside.
There are two colors available: #21 Light Beige & #23 Natural Beige

- Benefits: Sun protection SPF30 PA++, Controls sebum, Full and natural coverage, Light feeling, Smoothes, Softens, Evens Skin Tone and Brightens.

- How to Use: In the last stage of base make-up, put on a moderate amount on the puff, and apply on the face lightly and gently by tapping.
Find more products in the same category: