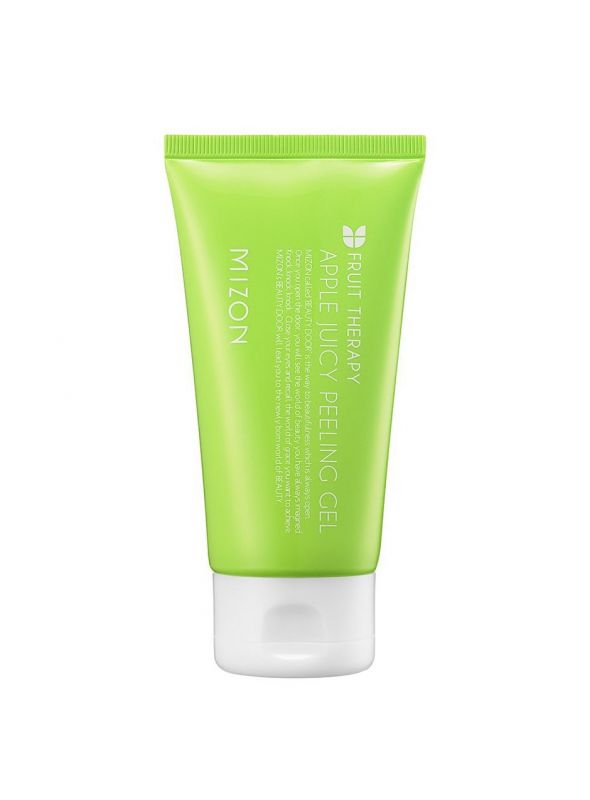 Display all pictures
Product added to your favorites list
Add this product to my list of favorites.
Apple Smoothie Peeling Gel

· Innovative gommage type exfoliator
· Removes dead skin cells and sebum
· Fruit therapy
· Size: 120ml
Order it before 13:00 and receive it on viernes*
You collect 14 Queen Points +info
Mizon Apple Smoothie Peeling Gel is an innovative gommage type exfoliator that gently removes dead skin cells, sebum, and other skin wastes. When rubbed, all of these impurities roll away with the gel for a non-irritating feel. Sugar cane maple extract and vitamins have been added to moisturize and brighten skin tone for a healthier complexion, while tannin acid (extracted from apples) helps to decrease skin troubles. Use this gel as a softer method of exfoliating versus harsh grainy ones!
1. Brightening Effect
Tannin acid extracted from apples decreases skin troubles. Abundant fibers and vitamins
brighten skin tone and give a healthy look.
2. Mild Exfoliation– Gommage Peeling
Natural cellulose rolls up with dead skin cells, sebum, and skin wastes when rubbed.
The smooth texture of peeling gel works on skin mildly. No irritation!
3. Deep Cleansing in skin pores
Papaya fruits and gypsophila paniculata root extracts clean deep in skin pores. It makes skin surface even and smooth.
4. Moisturizing Skin! –Retains moisture and soothes skin.
Apple and sugar cane maple extracts moisturize and soothe skin after exfoliation.
5. Elastic Skin and Healthy Look
Lemon, orange, and billberry fruits/leaves extracts firm skin. Apple acid, vitamins, and sugar from apple extract vitalize skin and gives a healthy look.

- Benefits: Exfoliates, Nourishes, Oil Control, Acne Control, Moisturizes, Brightens
- How to Apply: Apply an appropriate amount onto cleaned dry face. Avoiding lips and eye areas, rubbing for 1 to 2 minutes. Gel type granules will roll up dead skin cells and skin wastes. Rinse with lukewarm water.

Find more products in the same category: