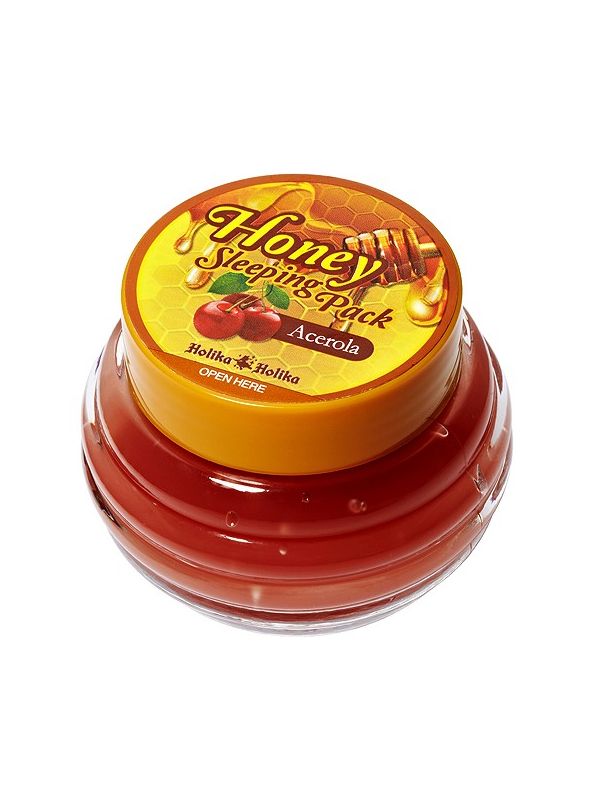 Display all pictures
Remove this product from my favorites
Add this product to my favorites
Acerola Honey Sleeping Pack
· Sleeping Pack Mask
· Honey extracts
· Dry skin
· Size: 90ml
Collect 16 Queen Points buying this product.&nbsp+info
Holika Holika Honey Sleeping Pack contains honey extracts and essences. Honey is rich in vitamins, minerals, and amino acids, which are wonderful beauty aids that nourish the skin. Honey is rich and thick, making it an effective moisturizer. Like other humectants, honey binds moisture to the skin and helps it stay hydrated. So it not only smoothes dry, rough, wrinkled skin, but honey also makes skin supple and plumps up wrinkles. Has strong honey scent and texture like real honey.
Acerola: antioxidant action helps to protect against free radical damage that can accelerate skin aging. Evens skin tone and brighten skin and boosts production of collagen and elastin. Also, helps increase skin's ability to retain moisture.

- Benefits: Moisturizes, Slims, Nourishes and Smoothes
- How to Use: Apply appropriate amount all over face after cleansing face at night, let dry.
Find more products in the same category: