Remove this product from my favorites
Add this product to my favorites
Snail Recovery Gel Cream

· Facial Gel Cream
· 74% Snail Filtrate Extract
· Lightweight and skin repairment
· Size: 45ml
Order it and receive it on martes*
Collect 10 Queen Points buying this product.&nbsp+info
Mizon Multi Function Formula Snail Recovery Gel Cream contains mucin in snail secretion that helps to repair damaged skin and give clear and smooth skin. The snail gel cream absorbs quickly thanks to the fresh and lightweight formula and reinforces skin repairment. Is a lightweight gel type cream that reduces the appearance of fine lines and wrinkles. Its gel like consistency allows it to penetrate deeper than traditional creams and leaves a light bare feeling. Although light in texture, this cream is highly effective, containing 74% snail slime extract. Snail slime extract promotes the production of collagen, allowing it to plump existing wrinkles and prevent new ones from forming. Hyaluronic acid in the formula gives skin rich moisture and keeps skin smooth all day long. Centella, portulaca, and grean tea extract prevent skin troubles and protect skin from the outside harmful factors while soothing skin. Also adenosine, the certified wrinkle care ingredient, and peptides and 5 kinds of vitamins improves fine wrinkle problems and firm skin. The formula is free of artificial coloring, fragrance, and paraben to minimize skin irritation. Use this moisturizer to create a more youthful and radiant complexion today!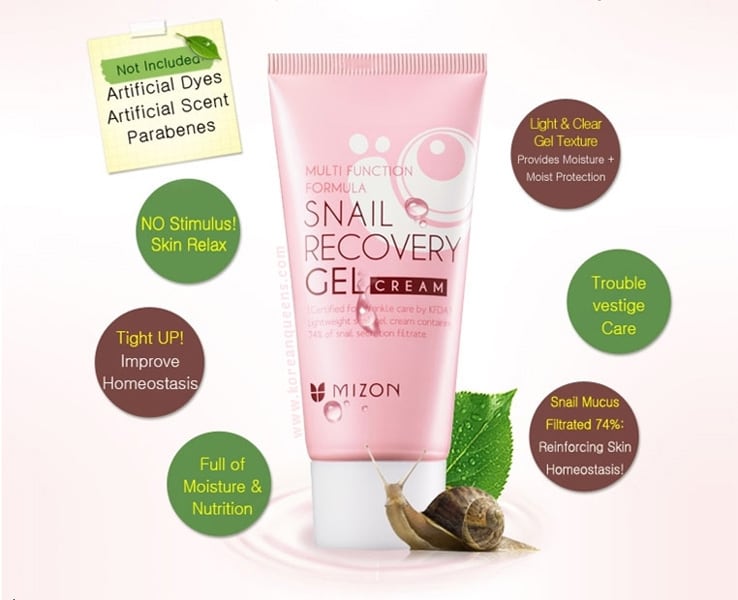 - Benefits: Lightweight, Boosts Collagen, Increases Elasticity, Moisturizes
- How to use: After cleansing and using toner, apply an appropriate amount all over and tap lightly to help absorption.
♡ TIPS:
· Store the cream in the fridge before using to get a better effect of skin soothing.
· Carry with you and use it anywhere and anytime for multiple effects.
· Apply more before going to bed for a rich moisturizing mask pack effect.
Find more products in the same category: