Product added to your favorites list
Add this product to my list of favorites.
Organic Flowers Peeling Finger Mitt

· Peeling Pads
· Plump & Moisture
· Pure Natural Ingredients
· Size: 25 pcs
Order it before 13:00 and receive it on martes*
You collect 27 Queen Points +info

Whamisa Organic Flowers Peeling Finger Mitt is made of pure natural origins ingredients and 97,3% of them are organic ingredients. This organic peeling finger mitt gently exfoliates your skin and easily removes dead skin cells and wastes, it makes the skin softer and tighter. The organic exfoliating essence is cleverly formulated with plant-derived exfoliant, betaine and salicylate to gently exfoliate skin and cleanse pores effectively, at the same time that nourishing and moisturising skin with chrysanthemum, aloe leaf ferment filtrates, sodium hyaluronate and beta-glucan to reveal a glowing and brightened skin complexion.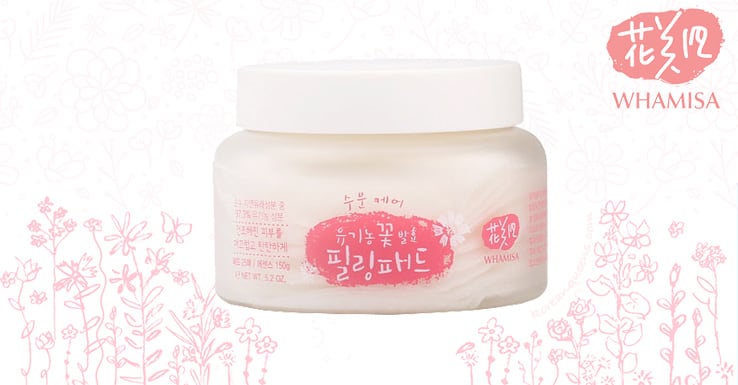 Natural fermentation process is used to distill and preserve the potency of select natural ingredients. This fermentation process minimizes destroying nutrients and divides nutrients into small particles which give fast and deep absorbing into your skin with deep moisturizing. This Peeling Finger Mitt is formulated with a blend of botanicals that cleanses skin, eliminates dead skin and declogs pores. Also it helps moisture balancing and leaves it soft and hydrated.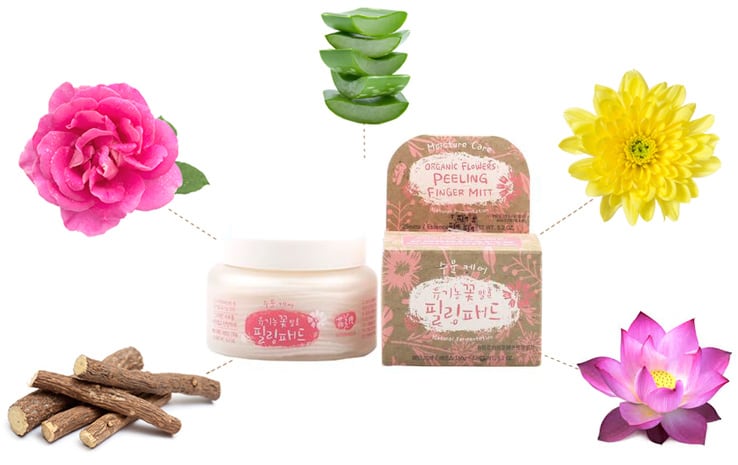 WHAT ARE FERMENTED INGREDIENTS? AND WHY THEY ARE SO BENEFICIAL FOR YOUR SKIN?
During the fermentation process, ingredients are slowly processed over a period of several weeks in a controlled, oxygen-free environment. This not only preserves the ingredients, but allows for harmful bacteria to be removed, and the ingredients break down into smaller, nutrient-dense constituents, which also allows desirable by-products such as amino acids and peptides to emerge. This means that essential nutrients, minerals and actives can be more easily absorbed deep into the skin and used to hydrate, nourish and repair, producing optimum results. The end result is a preserved, concentrated, more nourishing version of the original ingredient.

There's also scientific evidences that some lactobacillus ferments help treat and prevent acne and rosacea due to a combination of the protective, the anti-inflammatory and the antibacterial effect produced by lactobacillus.
- How to use: After cleansing, slip fingers into mitt and gently buff dry skin in a circular outwards motion, starting from the from center of the face. For neck, begin at the collarbone and move upwards towards jaw. Massage the nose and other areas that need more care, and thoroughly rinse off all remaining residue with warm water. Follow with a Whamisa's toner.
♡ TIP: Use every day or 2-3 times a week, depending on your preference. Best used during the evening skin care routine.
- INGREDIENTS: *Aloe Maculata Leaf Extract, *Glycerin, *Ethanol, Sodium Hyaluronate, *Lactobacillus/Chrtsanthemum Sinense Flower Ferment Filtrate, *Lactobacillus/Nelumbo Nucifera Flower Ferment Filtrate, *Lactobacillus/Taraxacum Officinale (Dandelion) Rhizome/Root Ferment Filtrate, *Lactobacillus/Maculata Aloe Leaf/Molasses Ferment Filtrate, ***Scutellaria Baicalensis Root Extract, ***Paeonia Suffruticosa Root Extract, Beta-Glucan, ***Glycyrrhiza Glabra (Licorice) Root Extract, Betaine, Xanthan Gum, Betaine Salicylate, Aniba Rosaeodora (Rosewood) Wood Oil, Citrus Aurantium Bergamia (Bergamot) Fruit Oil, Rosmarinus Officinalis (Rosemary) Leaf Oil.
(*Certified Organically Grown ***Natural Preservative / Bergamot Oil Bergaptene Free)

Find more products in the same category: