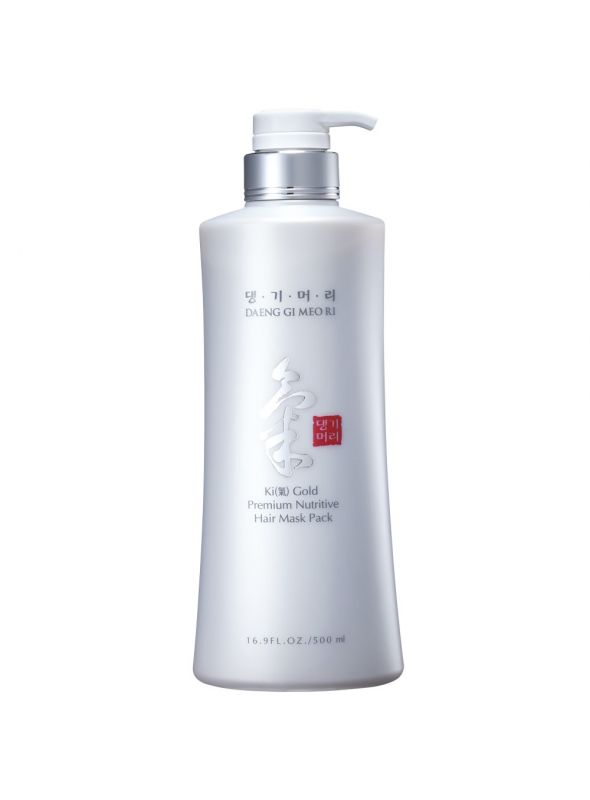 Product added to your favorites list
Add this product to my list of favorites.
Ki Gold Premium Nutritive Hair Mask Pack

· Hair Mask Pack
· Pure Medicinal Oriental Herbs
· Moisturizes, Nourishes & Repairs Hair
· Size: 500ml
Order it before 13:00 and receive it on lunes*
You collect 25 Queen Points +info
DAENG GI MEO RI Ki Gold Premium Nutritive Hair Mask Pack unlike any other simple chemical mixtures, this hair mask contains medicinal herbs and first grade purified water that have been decocted for 72 hours. Contains pure medicinal herbs with a high concentration of Korean Ginseng and Red Ginseng that moisturizes and nourishes the hair. It restores and maintains maximal moisture level, leaving the hair feeling smooth and fresh. This mask deep nourishing dry, damaged brittle hair due to frequent chemical applications and frecuent use of iron and stylers. Also contains Camellia oil that has been used and loved for hair care for centuries and keratin which is a key structural component of hair and it's able to repair deeply damaged hair. Just 3 minutes of effort is enough to get smooth and shiny hair by deep nourishing it. It increases the moisture holding capacity of the hair and panthenol can make damaged hair into moist and soft.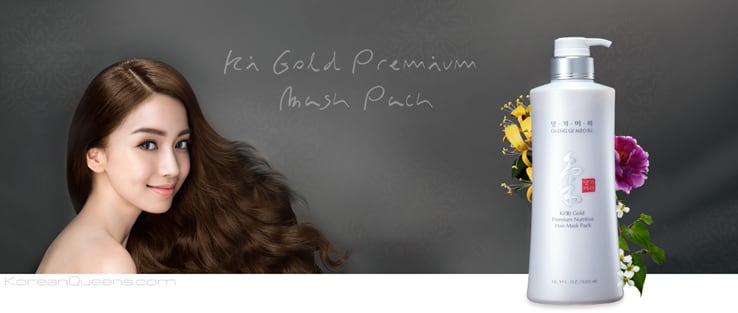 This hair mask is perfect for those whose hair feels stiff due to stronger hair caused, for those with split ends due to frequent hair blowing or styling and for those whose hair is not well groomed or arranged due to long hair. It supplies nutrition to hair follicles and ensures a beautiful looking healthy hair. Mild oriental scent provides comfortable and fresh feelings. The colors of all Daeng Gi Meo Ri products are the colors of medicinal herbal extracts themselves without artificial colors.

Main Ingredients and benefits:
- Korean daisy: Cleanses the scalp.
- Red Ginseng: Promotes blood circulation, accelerates metabolism and prevents gray or white hair.
- Cnidium officinale: Increases scalp's tensile strength and increases the elasticity of hair.
- Rehmannia glutinosa: Intensifies the natural color of hair with strengthening effect.
- Bitter melon: Strengthens immune system and promotes hair growth.
- Sophora flavescens (Ku shen): Inhibits bacterial growth.
- Sweet flag: Nourishes hair roots and improves hair's elasticity.
- Green tea: Nourishes hair roots, has an astringent effect and removes dandruff.
- Menthol: Gives a refreshing feeling.
- Panthenol: Moisturizes hair and improves dead skin cells.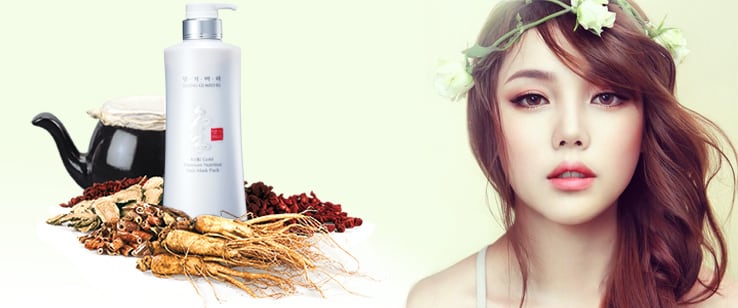 - How to Use: After shampooing and removing excess water from hair, apply a proper amount of this hair mask pack mainly to damaged hair and give a gentle massage. Leave it on for 3-5 minutes and wash off with warm water.
*TIP: You will get smoother, shinier hair when using together with DAENG GI MEO RI KI GOLD Premium Treatment.
Find more products in the same category: