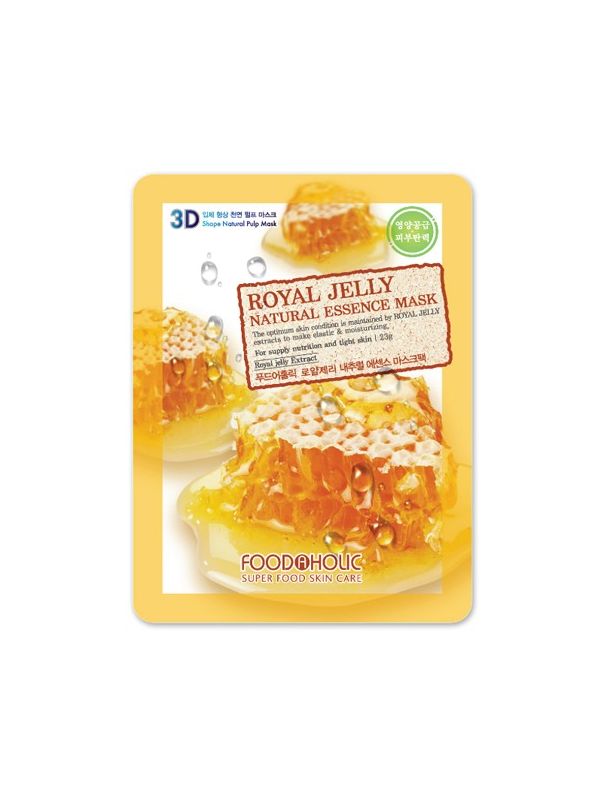 Remove this product from my favorites
Add this product to my favorites
Royal Jelly Essence Mask

· Facial Sheet Mask Pack
· Royal Jelly extracts
· Providing nutrition & Elastic Skin
· Size: 23g
Order it before 13:00 and receive it on lunes*
Collect 1 Queen Point buying this product.&nbsp+info
FOODAHOLIC Royal Jelly Natural Essence Mask is a nutritious mask which contains royal jelly extractions rich of diverse nutritions which helps to keep your skin well-moisturized and healthy. This element creates a moisture film, maintaining the skin wet and tight. Honey extracts smoothes dry, rough, wrinkled skin, and also makes skin supple and plumps up wrinkles. Royal jelly has healing properties for the skin and has been found to have strong antibacterial properties to help improve overall skin condition.
All Foodaholic Natural Essence Masks keeps the moist hydrationg sense based on silky touch and excellent contact of 3D shape natural pulp mask.

- Benefits: Smoothes, Wrinkle Improvement, Provides Suppleness, Anti-bacterial, Healing Properties, Moisturizes, Nourishes, Improves elasticity
- How to Use: Match the sheet from the eye and fix it all over the face with a fingertip. Remove the mask after 20~30 minutes and use the finger to absorb the remaining fluids lightly and arrange the skin according to the basic care oder.

- TIPS:
* Use as cold in summer: Before use, keep it in the refrigerator and enjoy a refreshing effect.
* Use as warm in winter: Before use, soak it with the package closed about 2-3 minutes in 50-60ºC of water.
Find more products in the same category: