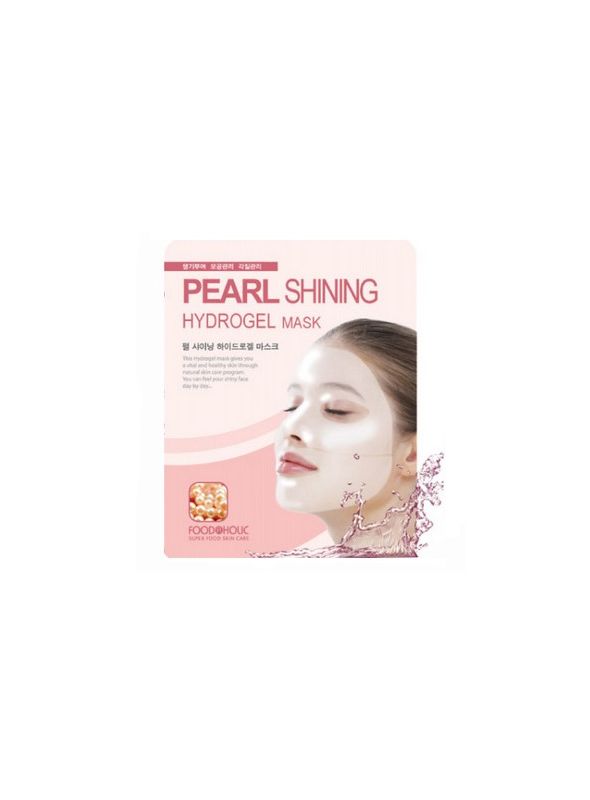 Remove this product from my favorites
Add this product to my favorites
Hydrogel Pearl Shining

· Hydro Gel Mask
· Brightening, Pore Tightening, Exfoliating
· Arbutin, Pearl, Pomegranate
· Size: 28g
Collect 3 Queen Points buying this product.&nbsp+info
Foodaholic Hydrogel Pearl Shining Mask is a water-soluble gel-type mask pack that contains a high content essence. Contains a pearl extract that has abundant protein and potassium that remove dead skin cells on your skin and vitalize the skin. Its arbutin, pomegranate extract, and fermented and purified yeast smooth and glow the skin. The mask that contains a high content of essence replenishes moisture, nutrition, and soothes your skin as well as improves skin elasticity by deeply penetrating into the skin. Its separated mask sheets adhere closely to the skin and enable you to do daily activities while having the mask on.
The Hydro Gel Mask Pack is a water-soluble gel-type mask pack that contains a high content essence. Active components deeply penetrate into the skin by reacting to the temperature of the skin to replenish moisture, nutrition, and restore elasticity of the skin. This non-sticky mask pack has an excellent moisturizing and lifting effects with a silky texture.

- Benefits: Vitalizes and glows your skin, Moisturizes, Improves skin elasticity, Soothes, Brightens, Zero Darkening, Relaxes, Tightens pores, Exfoliates
- How to Use:
1. After washing your face, arrange the skin texture.
2. Open the pouch, and remove the film attached to each mask sheet.
3. Attach the mask sheets to face and make sure the side the film was removed is attached on to your skin. One is for the upper face around eyes and the other is for the lower face around lips.
4. After 30-40 minutes, remove the sheets and gently pat your face until absorbed.

Find more products in the same category: