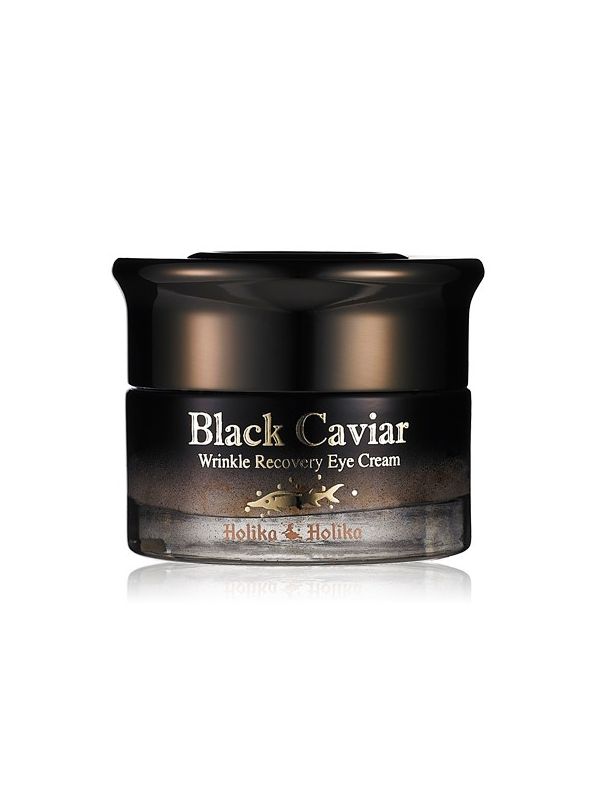 Display all pictures
Remove this product from my favorites
Add this product to my favorites
Black Caviar Wrinkle Recovery Eye Cream
· Anti-Wrinkle Eye Cream
· Black Caviar Essence, Pure Gold Extract and Diamond
· All skin, Mature Skin
· Size: 30ml
Collect 36 Queen Points buying this product.&nbsp+info
Holika Holika Black Caviar Anti-Wrinkle Eye Cream contains black caviar, pure diamond & gold extracts, royal jelly, argan oil and deep sea water. It can prevent and reduce wrinkle effectively and makes skin moist and youthful. It makes the delicate skin around the eyes elastic and revitalised. Reduces all signs of tiredness around the eyes with this gentle cream.
The caviar, which the emperor and the nobles chose to maintain their everlasting throne, is an essence of pure energy the skin needs and because it is composed of similar structures with the human skin protein, it has outstanding skin absorption rate.

- Benefits: Repairing, Rejuvenates, Firms skin, Hydrates and Improves Collagen Production
- How to Use: Gently apply a small amount of product under and around the eye area using fingertips. Use in the morning and evening.
Find more products in the same category: