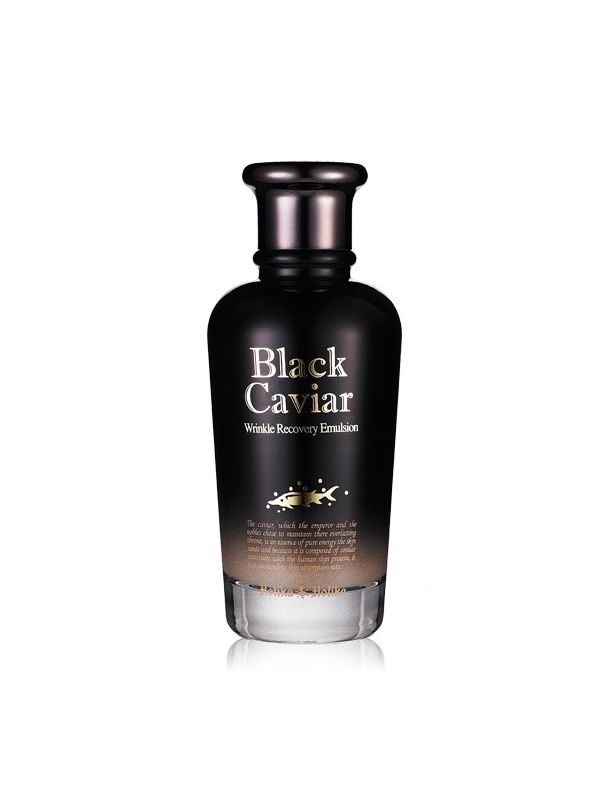 Display all pictures
Remove this product from my favorites
Add this product to my favorites
Black Caviar Anti-Wrinkle Emulsion
· Anti-Wrinkle Emulsion
· Black Caviar Essence, Pure Gold Extract and Diamond
· All skin, Mature Skin
· Size: 120ml
Collect 31 Queen Points buying this product.&nbsp+info
Holika Holika Black Caviar Wrinkle Recovery Emulsion uses luxurious ingredients that contain rich nutrients, proteins, and vitamins to reduce the signs of aging. Black Caviar Essence and Pure Gold Extract condition skin to provide an antioxidant effect, which effectively prevents and reduces the appearance of wrinkles. Caviar has a similar cell structure to human skin, allowing it to speed up the natural production of collagen, and in time it helps to plump up and thicken the skin and thus give a younger, firmer appearance. Also, with its excellent skin absorption rate this cream ensures that your skin remains hydrated throughout the day.

- Benefits: Repairing, Rejuvenates, Firms skin, Hydrates and Improves Collagen Production
- How to Use: After serum/essence, apply an appropriate amount to entire face.
Find more products in the same category: