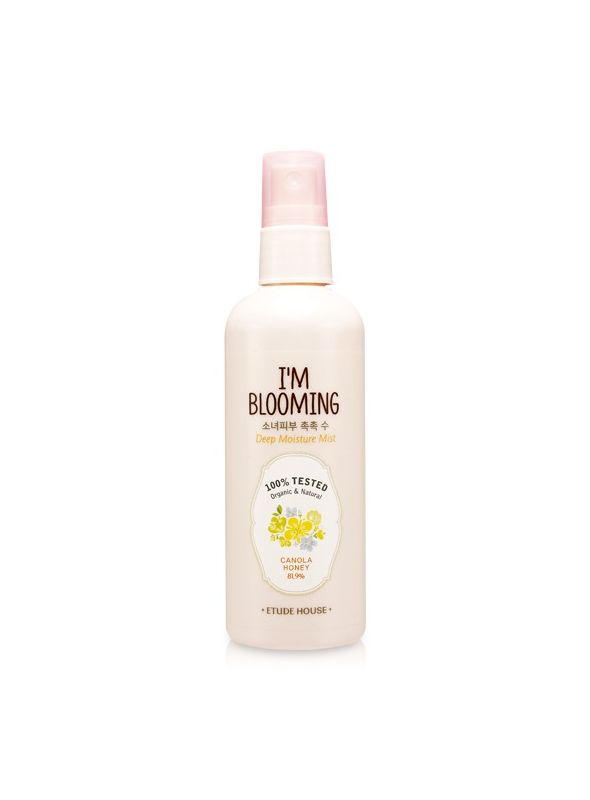 Remove this product from my favorites
Add this product to my favorites
I'm Blooming Deep Moisture

· Facial Mist
· Long-lasting moisture
· 100% organic with flower honey
· Size: 150ml
Collect 15 Queen Points buying this product.&nbsp+info
Etude House I'm Blooming Deep Moisture Mist creates moisturizing veil on skin to protect hydration for hours. Provides instant hydrating relief to skin, locking in long-lasting vital moisture. Contains natural ingredients that strengthen skin's natural vitality, this mist helps maintain fresh, blooming and healthy skin.
This facial mist is 6 in 1 item (Starter + toner + essence + booster + mist + moisture fixer) Contains 81.9% of rape flower honey water instead of purified water to offer richer moisturizing feeling. Contains snow lotus extract, edelweiss extract and jasmine extract. These flower extract from nature creates healthy skin.
7 Free (Paraben, mineral oil, talc, sulphate surfactant, benzophenone, formaldehyde)
- Benefits: Hydrates, Nourishes, Relieves, Brightens, Softens, Healthy, Pure
- How to Apply: After cleansing, spray face from approximately 15cm away. Pat lightly to help absorption.
Find more products in the same category: