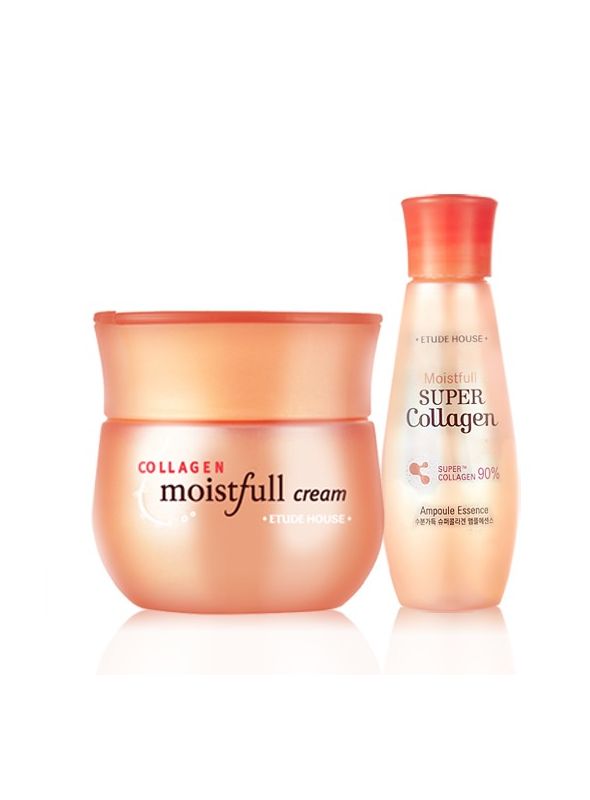 Display all pictures
Remove this product from my favorites
Add this product to my favorites
Collagen Moistfull Cream Set

· SET: Cream + Essence
· Contains Collagen
· Increases Elasticity & Moisture
· Cream (50ml) / Essence (20ml)
Collect 22 Queen Points buying this product.&nbsp+info
Etude House Collagen Moistfull Cream Set is a dual care of moisture and collagen which improves decreased flexibility and increase dryness. Flexible, soft texture applies to skin and increases moisture retention and lifts sagging skin. Brings a healthy shine to dry and dull skin. Combination of Baobab tree extracts and collagen increases moisturization and elasticity of skin. Proper moisture and collagen is the most important elements for maintaining youthful looking skin.
Set Includes: Moistfull Collagen Cream 50ml and Moistfull First Essence 20ml

- Benefits: Moisturizes, Increases Collagen Synthesis, Increases Elasticity, Increases Moisture Retention

- How to Apply: After cleansing. Apply First Essence. At the last steps of basic skin care apply Collagen Cream.
Find more products in the same category: